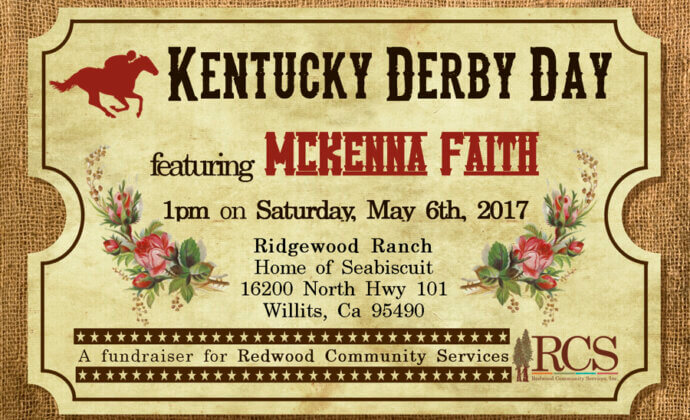 Kentucky Derby Viewing Party hosted by Redwood Community Services
Announcing:
REDWOOD COMMUNITY SERVICES: KENTUCKY DERBY FUNDRAISER
AT RIDGEWOOD RANCH, WILLITS, CA ON SATURDAY, MAY 6
CELEBRATING THE 143RD KENTUCKY DERBY 
Featuring COUNTRY SINGER MCKENNA FAITH 
A Benefit in Support of Redwood Community Services
Redwood Community Services (RCS) will be hosting a "Kentucky Derby Day" fundraiser at Ridgewood Ranch, home of the legendary racehorse, Seabiscuit, in Willits, CA.
Saturday, May 6, 2017  1 PM – 6 PM
at Historic Howard House
               Ridgewood Ranch, 16200 N. Hwy 101, Willits, CA
              (5.5 mi South of Willits, 2 1/2hrs North of San Francisco on Hwy 101)
PROGRAM:
The event will kick off with exclusive Derby-themed drinks, hors d'oeuvres and a catered lunch.
Activities include a Derby Hat Contest, silent and live auction, bidding booth, live-coverage of "the two most famous minutes in sports", the 143rd Kentucky Derby race. 
Country music artist, McKenna Faith, will be performing first class, high-energy, boot stomping country music.
TICKETS: $80
Tickets can be purchased here: https://www.rcskd.eventbrite.com
EVENT PAGE: https://www.facebook.com/events/226787017787258/?active_tab=about
BENEFIT: Event proceeds to go toward a charitable cause: Redwood Community Services
ABOUT REDWOOD COMMUNITY SERVICES: REDWOOD COMMUNITY SERVICES, INC. (RCS) is a non-profit and nonsectarian agency that provides specialized care and services to foster children and their families, and is the largest provider of Foster Care and Children's Mental Health Services in Lake, Mendocino and Sonoma Counties. rcs4kids.org/
VENUE: Historic Howard House – Craftsman style ranch house of C.S. Howard, owner of Seabiscuit, built by William Van Arsdale in 1905. Seabiscuit's life-size memorial bronze statue, restored stud barn listed on the National Register of Historic Places, and Seabiscuit Therapeutic Riding Center is available for viewing.
ABOUT RIDGEWOOD RANCH – Still a working ranch, the oak and old growth Redwoods studded 5,000acre property, is where Seabiscuit recuperated during his 1939 injury in preparation for his blaze-of-glory finish at the 1940 Santa Anita Handicap. His retirement home became a destination for visitors far and wide, with 20 historic buildings remain on the ranch from the Seabiscuit and Howard era. 1,689 acres have been placed in a permanent conservation easement. For more information visit www.seabiscuitheritage.org
***
This event is by reservation only. General public can reserve tickets in advance by contacting Redwood Community Services for more information.
Or rcskd.eventbrite.com
RCS KENTUCKY DERBY FUNDRAISER
Event contact: Pamela Mathias, Redwood Community Services
707-367-4703 mathiasp@rcs4kids.org